Semisonic's Feeling Strangely Fine: an album review
Growing up, I listened to a lot of music that my dad liked. He is a true fan of music of all genres, but I quickly learnt that my taste was quite discerning and that whilst I appreciated a lot of music as being 'good music', I was rather a picky listener (and remain so even now).
Semisonic's Feeling Strangely Fine, however, turned out to be my favourite album of all time. When I think about it, the best way I can summarise why is the strong nostalgia attached to this album, the fantastic song writing and instrumentation, the atmospheric lyrics, the way it makes me feel when I listen to it and simply the sheer amount I have heard it. I know it's cheesy quantifying how much you like something by giving it a star rating, but I quite like it. It's the only album to which I have ever given 5 stars to every track. I can listen to Feeling Strangely Fine over and over and I don't get bored of it.
So, a little history. Dan Wilson was in a band called Trip Shakespeare in the early 90's, which was actually his brother's (Matt Wilson's) band. John Munson who went on to be part of Semisonic was also in Trip Shakespeare (cool band!). So, Dan and John teamed up with Jacob Slitcher to form Semisonic in 1995.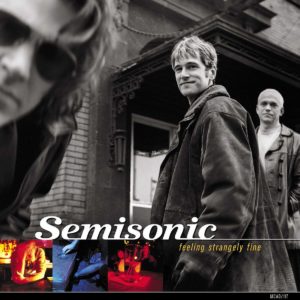 The above image is copyright Semisonic & MCA Records
Here is the track list for Feeling Strangely Fine (1998):
1 Closing Time 4:34
2 Singing In My Sleep 4:30
3 Made To Last 5:02
4 Never You Mind 4:24
5 Secret Smile 4:29
6 DND 4:11
7 Completely Pleased 3:17
8 This Will Be My Year 4:31
9 All Worked Out 2:51
10 California 5:26
11 She Spreads Her Wings 3:06
12 Gone To The Movies 3:52
[Closing Time]
This song is not about a bar at closing time – it is about childbirth! I heard Dan Wilson mention this somewhere.. Now I have cleared this up for you, listen to the song again – It makes even more sense. Despite this song being one of their most famous (along with Secret Smile), this is my least favourite song on the album. I still like it – I think it is such a nice sounding song. The piano is a nice touch at the start, and it builds up progressively a little until the chorus kicks in along with the guitar. I remember reading somewhere that this was a part of his life where he had just become a dad, and this song was part of his expression of that part of his life. It's an upbeat song both lyrically and instrumentally with a bright theme.
[Singing In My Sleep]
Depending on my mood, I sometimes consider this song as my favourite song on the album. I love the build up in this song, the repeating riff at the start and how it continues all the way through. This is probably the most upbeat song on the album. I know that is the main reason I like it so much. The guitar is really catchy on this record and it makes the song really solid. Dan excelled himself with the lyrics on this song as well – they are so singable and quotable! One of my favourite lines is: 'In the city the Lion sleeps, pray to Sony my soul to keep'. The song is catchy and likable, and leaves you quite happy. Bonus note: the music video is also cool – very 90's in a good way.
[Made to Last]
Made to last always puts me a certain mood. I think it's a mix of chill and pensive. Again, instrumentally quite progressive. I always think it sounds nice right after the upbeat sound of Singing In My Sleep. The lyrics I particularly like right at the start of this song.
[Never You Mind]
This song is very memorable and instrumentally very clever as it creates a unique sound with the combination of instruments selected. Especially that riff on the piano! It was co-written by Dan and Jacob, and is another great example of talent with lyrics as well – 'Shakin my mind like an Etch-a-sketch erasing'! I think that this is one of those albums that has a good mix of songs, yet somehow the album works so well as a unit – all songs included.
[Secret Smile]
A nice, sentimental song. It has a good feel to it. Maybe it is just after seeing the video, but it really compliments the lyrics and helps you get into the song. I always think the song is pretty melancholy. I'm not sure it is supposed to be. Along with Closing Time, this is a famous Semisonic song. That isn't the reason It's another one of my lesser favourite songs on the album, though. I think I just love the others so much.
[DND]
Just listening to DND now, I love the start, the acoustic riff, and Dan's voice. Then the drums step in, then the bass a little later. I enjoy progression. The flow of this song is beautiful. Then Violin later still.. Meanwhile, Dan's lyrics are so cleverly put together – so 'real' but sort of simple in a good way, all at the same time. I always liked the imagery that these lyrics conjured into my mind.
[Completely Pleased]
I often tell myself this is my favourite on the album, but I say that about a few of them depending on my mood I guess. I love this song so much! When I was young I never knew what it was about, but I never put much thought into it anyway. I love the 4 strums at the beginning. I also love the drums then straight after the guitar just before the chorus as they pick up a faster pace. Dan's lyrics on this track are so good! It's such a great song, I always develop a vivid imagination listening to it. I particularly like: 'I want to see you hazy, dazed and confused. I want to see you come, come, completely used'. The 'come come' part being clever in itself of course. Already you can see why Semisonic is so high in my list – I love the music and the lyrics! I think it's the chorus with the awesome guitar coupled with the lyrics that get me in this song.
[This Will Be My Year]
I think this is my current favourite song on the album. Interestingly, it was composed by Jacob Slitcher (bassist). I really like the sound of the.. whatever it is buzzing and the guitar riffs. I remember hearing Dan say somewhere that one of the best compliments musically is when you can't tell what instrument is playing. Every time the song starts I get really into it. I like the lyrics a lot on this one too, they are quite funny and clever. My favourite line has to be 'One wheel in the ditch another spinning in the air, put your pedal down to the floorboard, but your not getting anywhere' – it's a nice metaphor. Despite the lyrics being a little depressing, I love the upbeatness of the song, and the way it contradicts the depressive tone.
[All Worked Out]
I love this song because the lyrics are so blatant, real, simple, honest etc. about life and relationships and it just puts it out there 'She's got it all worked out'. But I like 'And it's strange, but your feeling fine' even more. The idea that this guy has accepted it and is completely comfortable with it. It is almost comic in a way, and It's such a lovely, emotional song. It makes you feel secure and happy. Who wouldn't want to be in a relationship like this?
[California]
California is an interesting song. I love the atmosphere both instrumentally and lyrically. Apparently the 'Twelve little pieces of me' are twelve songs he wrote (presumably all on this album). And this song is probably a sort of personal journey through them. I heard this on Dan's new live album Live at the Pantages, along with the fact that he regretted all the money he made from the album it wasn't the intention!
[She Spreads Her Wings]
She Spreads Her Wings is the first of two really nice slow songs on the album. I'm not sure about the music, but I think the lyrics were written by John Munson (drummer). The song has a very nice, calming sound.
[Gone to the Movies]
Gone to the Movies has a really nice acoustic sound. I really, really love the visuals that the lyrics make my mind conjure up. The violins are a nice touch again. Even though this song is a little depressing it makes me happy for some reason.
[to Conclude]
I think the recurring reasons why I love this album are the sort of progressive alternative sound, the riffs, the instrumentation – Dan seems to have an ear for what instruments will sound great at what point. Dan's way of writing – and he references this himself in 'Teeter Tooter' (one of the songs on their live album Live at the Pantages) – often comes down to creating a piece of music that he likes and then uses it throughout the song. It works very well I think. Of course the lyrics as well need a mention as to the reason why this album is so good. Also, of course, the nostalgia that is attached to this record for me is very strong. It has that distinctive Dan Wilson sound plastered all over it; the love, care and attention that he puts into all his songs. It has stood the test of time until now, and has surpassed all of my other 'nostalgic' bands. So, thank you Dan, Jacob and John for this timeless album.